Taking care of our diet is one of the essentials for having a healthy lifestyle. If  people have a balanced diet and do sport half an hour every day they  are more likely to live longer. Fruit and vegetables are crucial in a basic diet, but it is not so easy to buy organic products in all  grocery shops or supermarkets. But, what if we plant them and learn how to create an organic and ecological garden? In this sense, the school is an ideal place to learn how to do it.
Advise to create an eco garden
On one hand, the project of creating and planning an ecological garden allow  teachers to work on values and new knowledge such as the different interrelationships that human beings have with nature, the awareness and sensitivity regarding our environment, promoting sustainable values or teach aptitudes to produce  and feed  ourselves.
On the other hand, these kind of projects boost an active methodology, promote constructive learning that is the one which it does not start from scratch but from the previous student's concepts and ideas. Besides,  foster meaningful learning in which knowledge is not taught in isolation, however is motivated by pupils asking questions to themselves, reasoning about things they are interested in, solving doubts about everything what causes them concern and stimulate their desire to know the world in which they live.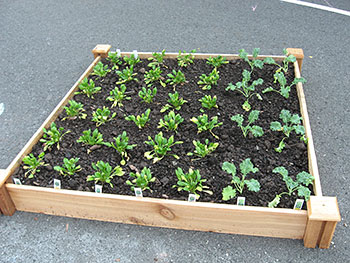 Furthermore, teachers can work different areas of the Primary Curriculum creating and maintaining  ecological gardens in order to helps students to develop knowledge and skills for a sustainable living, raising their environmental awareness.  
It is an educational tool to promote respect for the environment from a multidisciplinary point of view with which to learn values, important concepts.
Specific goals:
1.- Promote environmental education: awareness of the need to take care of the environment and make children responsible of the use of natural resources. How much water do we need to water a garden? How many times a month or a week? Are the products planted together or separately? Do all vegetables and greens need the same amount of water?
In this sense, children develop what is called the Socratic thinking  which encourage them to ask questions fostering the need to know how to answer them, developing critical thinking.
2.-. Know the techniques to cultivate. We must also take into account the climate of the area and its temperature, lighting, humidity, air currents.
3.- Learn  how to take care of other living things at the same time that children do that, learn how to take care of themselves.
4.- Learn grandparent's knowledge and values  at other era by asking them how they lived or which diet they used to have. Where do the product came from?
5.-Approach children to the rural world to know where the eggs come from or at what time of the year it is appropriate to plant each fruit or vegetable. Can we plant asparagus in winter or strawberries in August? When is the grape harvested?
6.- Learn how deal with little  and home economy: how many people in Andalusia are dedicated to the primary sector? What do we call the primary sector? Ii is ecological agriculture the same as technological agriculture? Can we farm with natural means and supply so many people in society?
Didactic goals:
1.- Learn how plants grow and how function an ecosystem. Observe the evolution of vegetables and greens from the moment a seed is planted until they bear fruit.
2.- To know, to love. Work the land to feed ourselves in a healthy way. Learn how to work land with seeds, fertilizers and water.
3.-Value the products we eat more and make a developing a responsible consumption. If we know where the food comes from and how much it costs to obtain it, we will value it more when it is on our table.
4.- Know the biological cycle of plants
5.- Choose and know the tools we need for it: from the shovel, the rake and the wheelbarrow and know how and why to use each instrument to plant.
6.-Differences between ecological and technological agriculture.
How to set up an school garden:
Criteria to take into account:
1.- Premises:
Location of the garden:
Space we have at school,
Is it the whether sunny or shady in our area?,
Accessibility  to water from a nearby place. Do we need  watering cans?,
How are we going to get fertile land, a long-term project that needs to involve all the educative community.
2.-What crops are we going to choose?
Vegetables and fruits known by the students,
Where to get the seeds, time of year, needs that these products require, which ones are more resistant to inclement weather, know the germination and life cycle of plants, know the local climate. Can the same seed be planted in a field in the north of the province as in the south? Or in a climate like Almería the same as in Granada?